"OK, the month is closed, time to generate the financials again. Let's see…Departments, Financial Management, General Ledger, Reports, Account Schedule. Fill in Account Schedule Name, Date Filter, Dimension Filter for the first department and…Print… You know, this looks all right but I wish I could change the fonts and put our logo on it, dress it up to impress the execs. Oh well, one department done, 53 to go."
Whether you're using the NAV Classic Client or Role Tailored Client, Account Schedules are pretty good for on-screen account review and analysis, and adequate for basic printed financial report presentation. But if you have numerous profit/cost centers to report individually, or you'd like your financial statements to have a lot more pizazz, Jet Reports for NAV is the way to go.
Jet Reports is an Excel add-in program that knows and understands the NAV accounting database. It provides four new functions (with a multitude of options) to Excel that allow NAV data to be read directly into Excel. For financial reporting, one of those functions knows how to read and sum up your General Ledger Entries.
The GL function reads the NAV General Ledger. Let's look at a sample formula.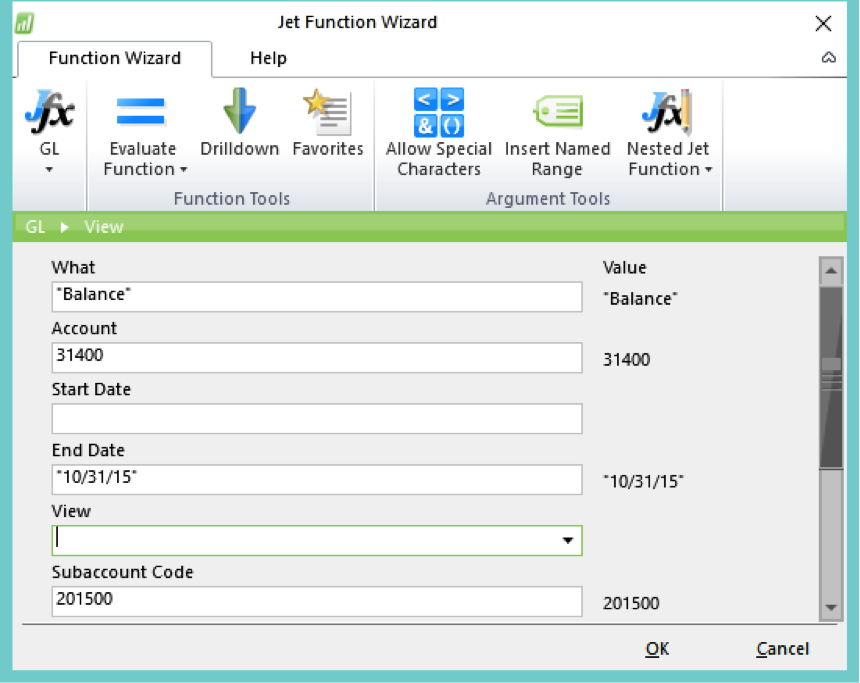 It reads "calculate the Balance of Account 31400 at 10/31/15 for Subaccount 201500 (Subaccount is one of the Global Dimensions).
And the GL function becomes more powerful when you put the data values into cells.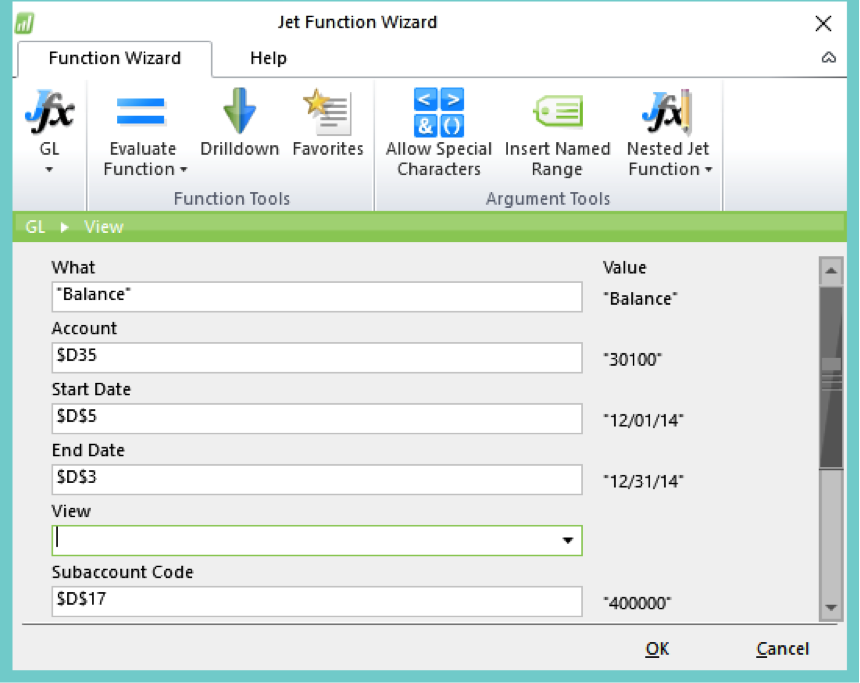 By using cell references, you can write just a few formulas and copy them to generate balances for any portion of your chart of accounts.
Here's how a Jet Report looks in Excel: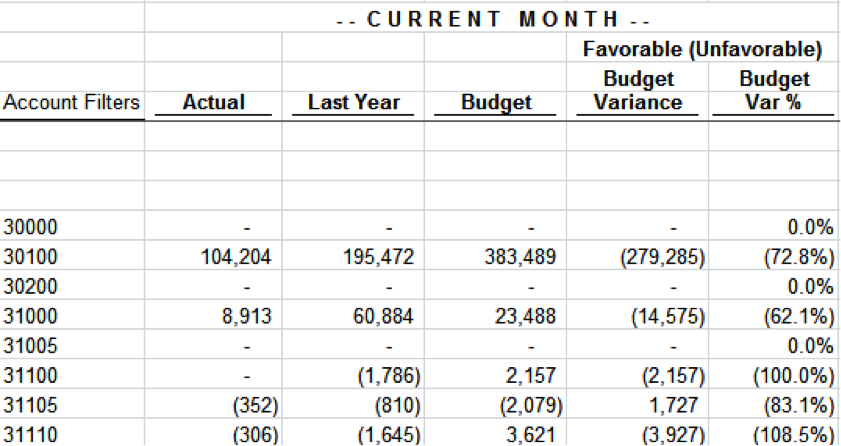 Each one of the values in the Actual, Last Year and Budget columns are calculated by Jet GL functions that use the Account Number in the Account Filters column. The Budget Variance columns values are simple Excel math formulas!
Because Jet is an Excel add-in, you can do all of the normal Excel formatting functions you that are available for any Excel workbook. Use colors, cell borders, fonts, images, whatever you want to dress up your report for a great presentation!
If you have a lot of dimension values to report on, Jet has another function that can create a separate worksheet for every one!

Instead of generating individual Account Schedule reports for every department, you can open an Excel file, enter a Date Filter, click a single button and let Jet Reports generate all the financial reports for you. Or, use the Jet Scheduler to have your report run during off-hours. Either way, Jet Reports can take your financial reporting to a new level!